Maintaining a positive relationship with stakeholders is critical to each organisation's success stories. Also, a key to cultivating a healthy relationship with the public gets accomplished with solid PR solutions. Suppose you are a new Dubai-based entrepreneur in the beauty, lifestyle, real estate or luxury business.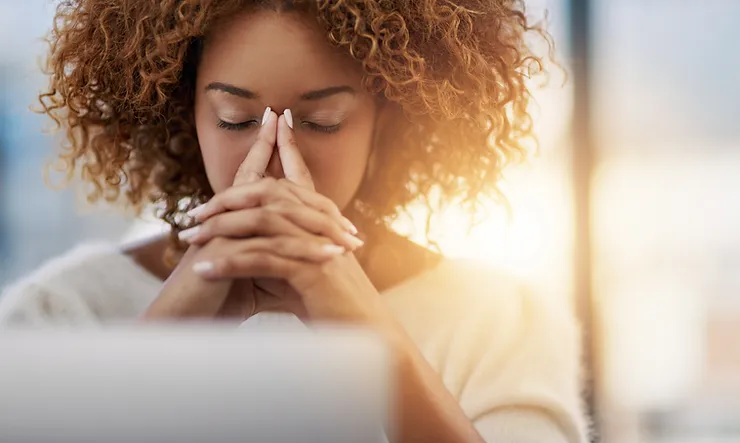 How would you implement strategic communication procedures to build a relationship between your brand and the public? The answer is simple –outsourcing your PR requirements to a reputable agency in Dubai
Why Is PR Communications Important for Brands?
PR, public relations, is the tactical communication process. Besides building relationships between the establishment and its public, it simplifies communication with customers, employees, suppliers, investors and the whole community. Moreover, with public relations strategies, businesses can advertise their services and products more convincingly.
With public relations, brands can communicate and publish key messages to the public abouta specified story or subject.It may involve the following:
Writing and distributing the press release
Media pitching for securing coverage
Brand sponsorships and partnerships
Social media tactics
Curating specified events concerning public outreach
PR communication has a direct impact on increasing business profitability. Its role is to craft a brand's image & leaders in a company. Moreover, it mainly focuses on the following:
Generates positive publicity for businesses
Builds the brand
Improve business reputation
Popularise Your Brand by Outsourcing PR Communication Needs to an Agency
A business needs to communicate with the audience to increase brand awareness. And narrowing down the information that the public must learn is critical. And to introduce your brand directly to the public, you need a direct source of interaction. That's where the services of a PR communication agency come to the forefront. On this note, here are the perks of hiring a PR agency.
# Their Experience and Industry Acumen Meet Your Goals
A PR agency specialising in the industry will understand the brand voice. The company understands what the audience is looking for when they visit your business. They have excellent connections with experts. So they are familiar with the outlets & publications. Besides, the firm also has a solid familiarity with industry jargon and terms and will elucidate them to you accordingly.
# Their Experience and Industry Acumen Meet Your Goals
Pricing is a key parameter irrespective of whether you are in the beauty, luxury, or real estate industry. All you need is to ensure that the chosen company offers the right budget as per their expertise and the amount of work contributed. It is your responsibility to carefully review the chosen company's quotation to ensure realistic prices.
One quick note: Their quotation must be according to their skill levels and top-notch services provided
# Diversity – An Added Perk to Improve Brand Awareness
Investing in a PR company gives you access to professionals who have worked in varied industries. More notably, they have gained an insightful analysis of how businesses work.Suppose you are in the lifestyle industry. Then, choosing a PR company having experience working with luxury and beauty brands is beneficial.
Hiring a PR agency makes you collaborate with professionals. These experts offer valuable expertise and insights into managing the brand, business, reputation, and,most importantly, relationship with the public.
Before selecting the PR agency, it is important to consider letting them know these aspects:
Your company's prime objectives
Making them familiarise with your company employees
Assessing the budget
Considering the aforesaid aspects, SOAR PR seems to be the right fit. We combine art direction talents and photography to design your brand. We are the communication bridge between your brand and the public. Until today, we have worked with lifestyle, luxury, real estate, beauty brands, etc. We would love to hear from you about your requirements for PR communication services.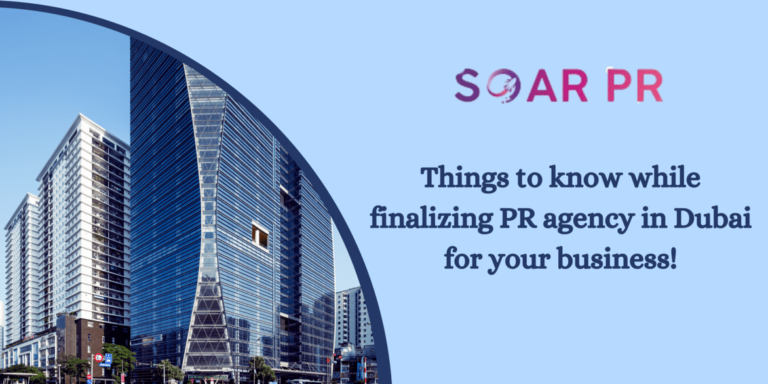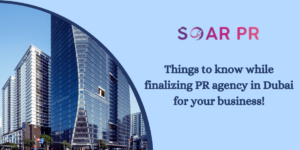 Introduction: We are a part of that business landscape where...
Read More